I went away for the weekend to go along with my daughter to another city for her second rotation.  It was not planned.  But since the school decided to let the students go on their own , anytime and any day in the week as long as they should be there before the Sunday orientation,  I then decided to go along with her and see to myself that she has settled well with her roommates in the room assigned to them.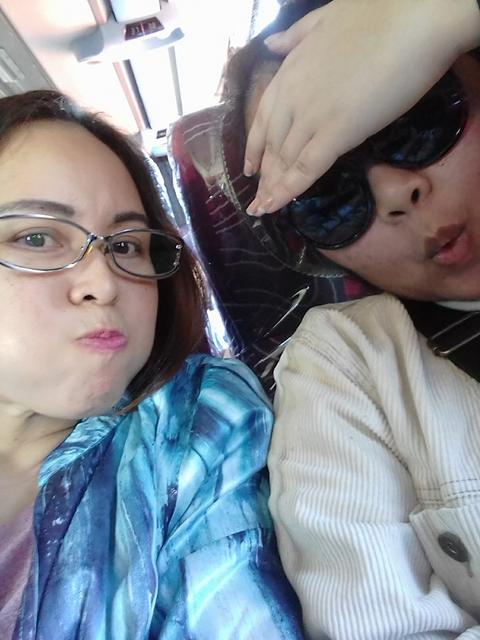 I did not mind going along and taking the long trip because I love to travel.  Opportunities like this makes my feet literally H A P P Y!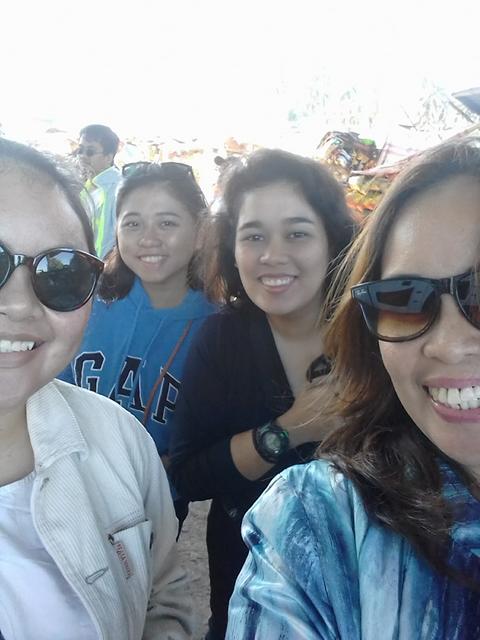 Me and the happy girls!
For 2 nights, we slept side by side in the big bed.  On the first night, just the two of us while on the second night, Shaira was already in, so the 3 of us in the big bed.  I am suppose to travel back on the second night, but due to the strong rain, I decided to sleep in and wake up early the next morning.
The Sunday orientation was suddenly changed into a Saturday night schedule.  They reported at six in the evening and I thought they would be done in an hour or two. But nah, they came home past 10 in the evening with the news that they have to wake up early for the 5 o'clock bayanihan!   I do not know what to feel and react!  I just kept my cool and tried to look happy for them.  But really I cannot understand why they have to do the bayanihan on their first day before rotation.  Anyways, my plan to leave early the next day became definite.
Early morning came and the kids left for the hospital before I got ready to leave. I was not able to stick to my plan to wake up really really early. Ha ha ha. Lazy me! But indeed I did not feel like going home.  I had wished for a moment that I worked there so that I would stay there until their rotation is over.
I stopped daydreaming and left the house and I arrived at Ecoland terminal before the bus got full.
When the bus was about to leave, I tried calling the daughter.  Her phone just rang but she is not picking up.  I let it pass.  When the bus left, I called again. I just wanted to say that the bus has left and I am really going now.  Still the phone was not picked. I tried many times until the bus passed by the hospital, and still my call wasn't picked.  I felt more sad than disappointed.  The fact that I am leaving her and we will not be together for some months hit me hard on the chest.  Then the tears started to fall fast.  I tried calling again while controlling a sob.  It took some time for me to feel better and stopped crying.
Despite my tears, my sad feeling was never obvious to my seatmate – a lady who was excited to touch the clouds when they reach their destination.  My tears were hidden but I cannot stop blowing my nose. lols!
My mind then wandered to the time in the past when my mother brought during my first trip to Mountain view College for my college education. I can no longer remember if I cried when she left. But it made me wonder what she felt that time when she left me there.
I was already far from the city when the daughter called.  She said she tried several times to contact me but I was out of reached.  Possibly because of the signal in some areas.  She was laughing when she knew I cried.  She laughs while I cried!  Oh kids these days! lols!  She asked me why I cried.  And later she said, "stop crying na".
The tears eventually stopped falling and I said to myself, I should start to learn the art of letting go of a child – because one day they eventually leave me and will have a life of their own.  I guess it is just easy to say it and think of it, but when the time comes, no matter how ready I would be, I will still bawl in tears.
Davao City is not really too far but it is farther than MVC and the daughter will not be home for several months.  So that explains my sudden sadness.  I then thought maybe I would make Davao my kitchen. lols!
~~&~~