Two Saturdays ago, I tag along with my friends and a new friend as we head to Midway Beach Resort.  Our visitor hails from Davao City and he is on a journey exploring the wonderful places of the Philippines and thankfully he included Iligan City during his trip.  I think Iligan was the last before he traveled back home to Davao.
The weather was perfect but it was too hot in spite of the we were by the beach side. The water looks so tempting but no one dared to swim because the sun feels like it wants to eat the whole of you when you are out there. They have a swimming pool, but it was a bit crowded. When it's a small pool, I don't like joining the crowd because we do not have an idea on how many times the pool is cleaned or if the water is flowing or not. They have the adult pool as well as the kiddie pool so hopefully they have stuff like goldline salt cell for their use.  It is really important to use the right things and materials in maintaining the quality of pools.
We just tried to enjoy the view around us while we waited our food to be delivered.    Here's a couple of the food we ordered:

— just some of the foods: chicken adobo & friend ketong–
There was also the pansit and the calamares. We had green mangoes, sinegwelas, mixed nuts, and chips (junk foods). Jam, Alex, Glen, me, and later Richard feasted on these simple foods. We were so full but still no one was tempted to swim. We looked forward to be in a place where the wind is cool and we will indulge in a very very cold softdrinks or soda, so we decided to leave.
Before we left, we had few shots. We asked someone to click the camera for us. I still haven't seen any group pic we did but I hope later, they will share.
Since I still don't have a copy of a group pic, let me share my selfie one: hahaha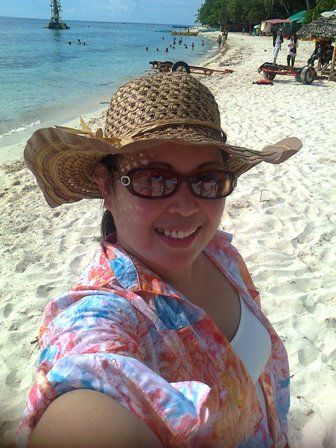 That's me!
And we left. We directly went to Echavez to grab a cold softdrinks and we also enjoyed their cool place. After a short while, we head off to the forest through a motorela.