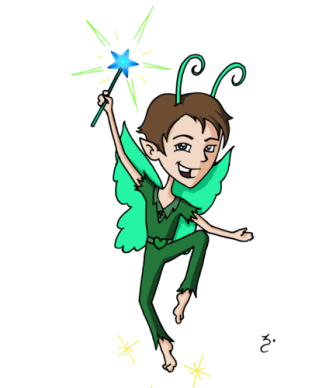 Happy New Year from Fairy Hobmother!  I thought I would not hear from him again but I was wrong, The Fairy Hobmother pointed is magic wand at me through  this blog.
It is not always that we receive unexpected blessings, but I believe that the more one gives, the more one receives.  Whoever believes on this saying will really agree with me.  There is no question in the goodness of the Lord because He often answers one wishes and prayers through someone and this weekend, it was through the Fairy Hobmother.
I am saving up for an appliances that will aid my mom with the household chores.  We really need right now a washing machine and I am saving up for a washing machine with dryer.  The year has just started but two typhoons have passed our way already and when the weather is so wet, we have problem in with our laundry.  I still have a lot of laundry to be done but since we don't have the washer, we do manual and that is so tiring, so I left my laundry to days when I am so enthusiastic about handwashing.
So have you had wishes for 2013 that has been answered as early as January?  Go make a comment in this post because it might be your turn the next time the Fairy Hobmother moves his wand.